As your chosen logistics service provider, we are passionate about your product. We ensure it travels safely from its place of origin to its final destination. Qualitative service, experience and a constant pursuit for excellence are some of our company's keywords.

Our focus is both on you and your products, striving to find a fitting solution to every logistics challenge you may face.
Ever since its foundation in 1867, Molenbergnatie has been an established name in the port of Antwerp and a market leader in the soft commodity industry. Your end-to-end supply chain needs are our core business. We guarantee high-quality service and continuously dedicate ourselves to maintaining and optimizing all our operations. That is why we are known as a trusted and experienced logistics partner.
Every day, we put our all into being your preferred supply chain partner, managing your entire physical flow - from origin to factory - or any (specific) part of it. We supplement our core activities with several value-added services, such as customs and food safety document handling, IT services (such as EDI) and financing agreements. This way, we can offer you a wide range of tailor-made solutions to your flow.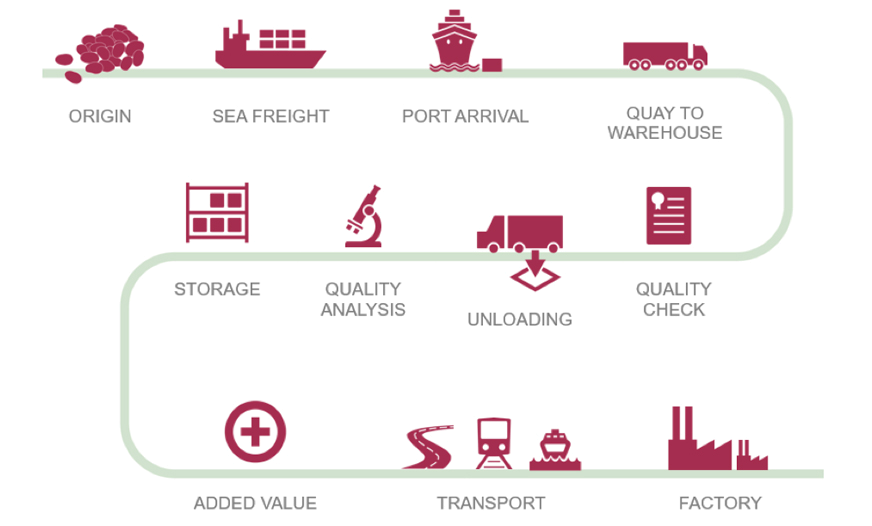 Sea freight
---
● Freight management services
● Forwarding services:
Terms negotiations
Sea freight pre-financing
Port arrival
---
● Settlement of local charges (THC, ISPS, …)
● Customs clearance services at the quay
Quay to warehouse
---
● Flexible transportation solutions:
Pick-up container
Full drop-off at our warehouse or your final destination
Weighing per weighbridge
Quality check
---
At Molenbergnatie, quality is our number one priority, which is why all inbound goods flows are subject to several stringent and internationally accredited quality control procedures:
Full food safety & quality check of the container
Full food safety & quality check of the cargo
Custom-made sampling procedures
Unloading
---
Molenbergnatie's global discharging services are performed in accordance with internationally approved (food) safety regulations, including representative sampling, weighing and labelling. Our completely transactional ERP system ensures 100 % traceability of your goods.
Quality analysis
---
Depending on your specific type of commodity and desired location, Molenbergnatie offers various quality analyses, ranging from humidity tests to cupping and grading, defect counts, screening and cutting tests.
Storage
---
Depending on your specific type of commodity and desired location, Molenbergnatie offers:
Ambient storage
Temperature controlled storage
ICE Futures Antwerp storage

Value-added services
---
Molenbergnatie offers a wide range of value-added services for every type of commodity. These not only include specific goods handling (such as reconditioning and rebagging) but also complex customs & documentation flows, IT solutions and financing services.
Transport
---
All of our locations are dedicated to finding you the most efficient, multimodal transport solutions for your flows, whether they be (bulk) trucks, containers, trains, barges or sea vessels. We make sure your goods are where they need to be, when they need to be.
Factory
---
To further simplify your logistics needs, even straight up to the factory, we look into several on-site services for you – such as on-site weighing scales and intake facilities!
Quality is not expensive, it is priceless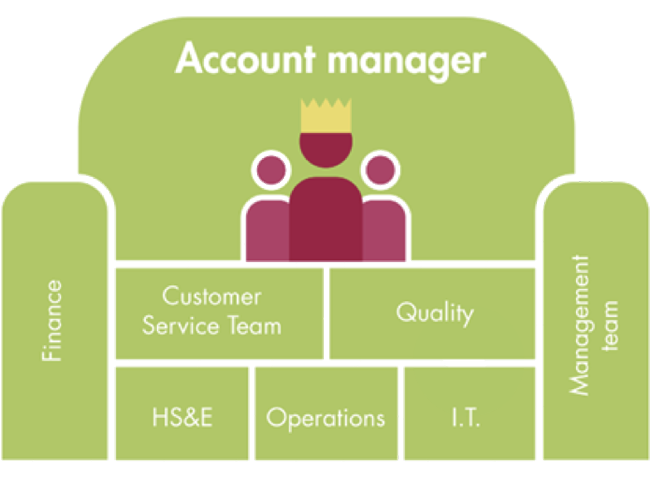 Molenbergnatie is fully dedicated to its customers. We always ensure our professional team puts all of its weight behind your trade. To achieve this, we provide every single customer with full customer care, on both the local and international level.

Your appointed Account Manager carries full responsibility for you and your needs. With the full support of the Quality Team and Customer Service, he/she will handle all your questions, commercial issues and business development proposals. Every Account Manager is in contact with local management for any guidance. They can also benefit from all financial services offered. Supervised by our HS&E department, they will help you improve your supply chain by combining IT solutions and our operational expertise.
Want to learn more on our specific services for your commodity?
Discover more here.