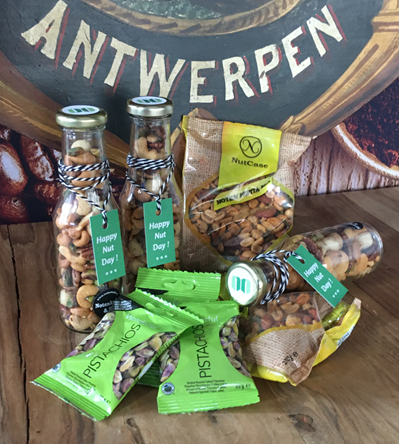 They may be small, but nuts pack a punch when it comes to taste and other benefits. Not surprisingly, their consumption keeps increasing – both as a snack and as an ingredient – especially now that a growing number of people are realizing the importance of eating a healthier diet. To highlight its many advantages, nut enthusiasts around the world celebrate the mini power bomb on October 22nd.
As an important supply chain partner in the nuts and dried fruit industry, Molenbergnatie happily participates in this worldwide celebration. Last year, we treated our colleagues to a nut-filled breakfast and a product masterclass, and this year too we came up with a nutty – and totally COVID-19-proof – initiative!
Due to the COVID-19 pandemic most of our staff have been working from home, so Molenbergnatie chose to surprise them with some nut-based treats to celebrate Nut Day and, at the same time, help them boost their productivity.
Indeed, research shows that eating nuts gives you a head start in many ways. They are excellent sources of fiber, vitamins, minerals and healthy fats, such as omega-3 and -6. This makes them a great snack, especially now that we spend a large amount of our time inside. For more info on the benefits of nuts and some useful tips and tricks on healthy snacking, check the INC website: https://www.nutfruit.org/consumers/news
At Molenbergnatie we are nuts about nuts the whole year through. That is why we are continuously striving to improve the supply chain flow of these delicacies around the world. Only last year we increased our storage capacity and for the near future too we are planning several nutty innovations. Stay tuned for our 2021 plans and in the meantime: let nuts help you to stay safe and healthy!
Go Back